If you close your eyes and imagine a place you'd rather be, it's probably going to be on a road trip around Australia! Considered one of the best countries for overland travel, Australia boasts various daydream-worthy road trips.
If you find yourself with the luxury of time and the opportunity to get behind the wheel – there's no better way to explore our great land. Below we have highlighted some of our absolute favourite drives. No matter where you're starting from or what kind of timeline you're working with, there's a breathtaking Australian road trip to suit.
If you're a hiker, beachgoer, bird watcher or just love to drive, our list has you covered. From the crystal clear waters of Ningaloo Reef to the unspoilt wilderness of Cape York, there's an epic road trip for every kind of traveller.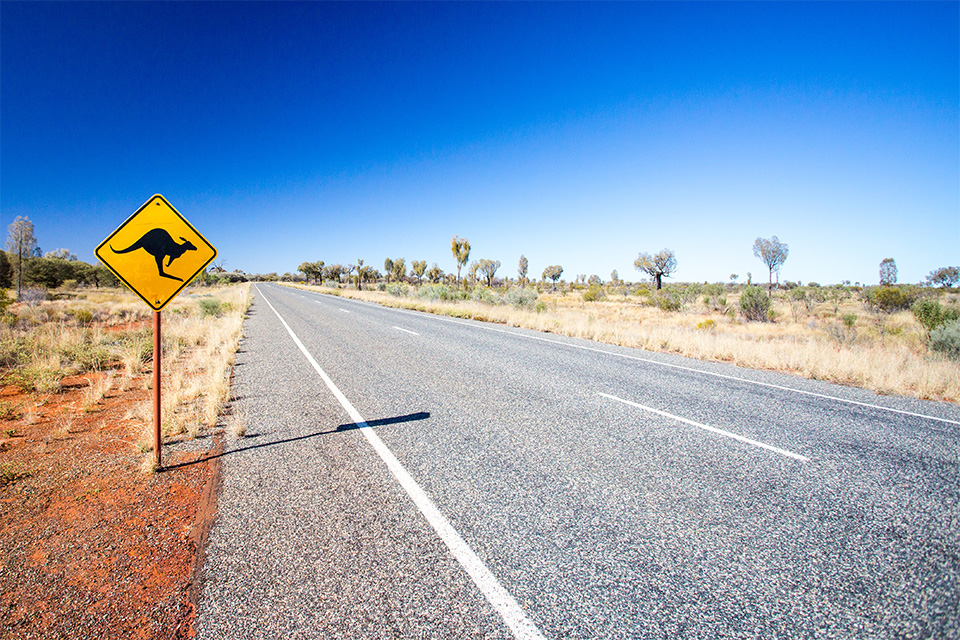 Western Australia
Perth to Ningaloo Reef
Western Australia is a different world. With its long stretches of white sand beaches and charming towns. It's a road-tripper's dream come true. The main highlight of this route is snorkelling at Ningaloo Reef right off the beach at Cape Range National Park in Exmouth. Other points of interest include stopping for a manta ray tour in Coral Bay, feeding the dolphins in Monkey Mia and exploring the Pinnacles Desert just a few hours north of Perth.
This route will have you clocking just under 1,200 kilometres driving along the glorious Coral Coast. Like most of the drives on Australian roads and highways, be cautious when passing road trains and be aware of wildlife while driving at dusk and dawn.
The Pilbara
The Pilbara Drive is a captivating and remote self-drive adventure in the Australian outback. It stretches over 2,400 kilometres through Western Australia's vast and rugged Pilbara region. Take your time to soak in the rugged red desert scenery, sensational gorges and ranges. Don't miss out on the many Aboriginal cultural sites where you can explore the region's rich history. Take the opportunity to relish the gorgeous sunsets of Karratha, hike and swim at Karijini National Park, jump in a waterfall and check out a horse riding tour.
Broome to Perth
The classic Western Australia road trip. The Broome to Perth drive is a long and picturesque journey that will have you driving for days. You'll be driving for approximately 30 hours, but fortunately, this trip features breathtaking gorges, fascinating wildlife, national parks and ancient rock formations. The 2,200+ kilometre drive is full of unmissable highlights, including the red pindan cliffs of Broome, the ancient gnamma holes of the Pilbara, world-class diving in Exmouth, the beautiful beaches of Geraldton and more.
Victoria
Great Ocean Road Drive
The Great Ocean Road is one of Victoria's most beautiful stretches of coastal highway. From Melbourne to Port Fairy, it's about 370 kilometres. You can do it in a day, but you'll want to take your time to stop along the way. First, you should check out the surf oasis that is Torquay. Then take in the views while grabbing a coffee in Lorne and a famous scallop pie in Apollo Bay.
This easy drive offers so much diversity. You can stop for wildlife spotting and walks through lush rainforests. The most significant point of interest on this route is the famous Twelve Apostles, referred to as the jewel in the crown of the Great Ocean Road.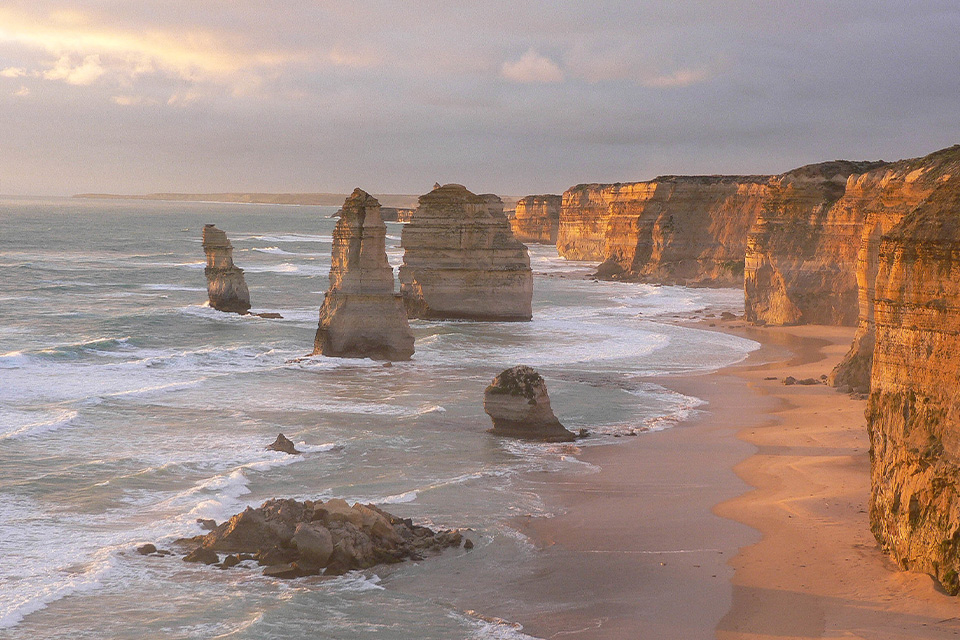 Great Alpine Road
The Great Alpine Road Drive is an enchanting journey through the high country of Victoria. Traverse the winding roads, taking in majestic mountain views and picturesque alpine towns. Pass through the historic villages of Bright, Harrietville and Omeo, and explore the many lakes, rivers and national parks. Enjoy the fresh mountain air and spectacular scenery. This 339-kilometre stretch of road is completely sealed and accessible.
Bass Coast
The Bass Coast Discovery Loop is an adventurous self-drive holiday through Victoria's Gippsland region. This loop takes you through lush rainforests, surf beaches, national parks, and quaint coastal towns. Along the way, explore the diverse landscapes of the Bass Coast, with activities such as fishing, swimming, kayaking, bushwalking, and cycling. You can also visit historic sites, learn about aboriginal culture, and sample some delicious local wines and produce.
Queensland
75 Mile Beach
Fraser Island is the biggest sand island in the world, and the 75 Mile Beach Drive is the sand highway that runs along the Island's eastern coast. Offering stunning views of the ocean, sand dunes, freshwater lakes, and wildlife, it is the only beach highway in the world. The 4WD-only route is a great way to visit the island, with plenty of opportunities for swimming and fishing on this World Heritage site.
Great Barrier Reef Drive
The Great Barrier Reef Drive is reasonably short, but it's filled with the best bits of the Queensland coast. This diverse part of the world offers World Heritage sites, national parks, tropical rainforests and secluded beaches. You'll have many breathtaking lookouts to enjoy during the 140-kilometre long stretch. Be sure to stop at Port Douglas to catch an iconic sunset with all the locals at Rex Smeal Park.
Cairns to Cape York
If you've ever dreamed of venturing to the tip of Australia, this is your road trip. The Cairns to Cape York drive via Cooktown is a 1,500-kilometre journey that will take you through some of Australia's most spectacular national parks and secluded beaches. From the lush rainforests of Far North Queensland to the remote outback, you'll experience a diverse range of landscapes offering excellent snorkelling and fishing. With creek crossings and corrugation galore, this is the perfect road trip for the adventurous traveller.
Northern Territory
Red Centre Way
The Red Centre Way is a picturesque drive through the heart of Australia's Red Centre. This 800-kilometre journey takes you through some of the country's most iconic landscapes, including the majestic Uluru, the rugged MacDonnell Ranges and the beautiful Kings Canyon. While enjoying the colour of red earth, you'll also find Aboriginal art sites, cattle stations, wildlife, and more history than you can shake a stick at! Some suggest a 4WD vehicle for certain parts of this drive, but there are ways to manage without a high-clearance vehicle.
Uluru to Kings Canyon
The Uluru to Kings Canyon drive is an epic journey across the Red Centre of Australia. It takes you through the stunning desert landscape of the Outback and is a must-do for any Australian road tripper. The 324-kilometre drive begins with a view of Uluru, the iconic sandstone formation of the Northern Territory. As you travel south, you will come across charming colonial towns and remote Aboriginal communities. The final stretch of the drive takes you to Kings Canyon, a spectacular canyon carved out of the surrounding sandstone.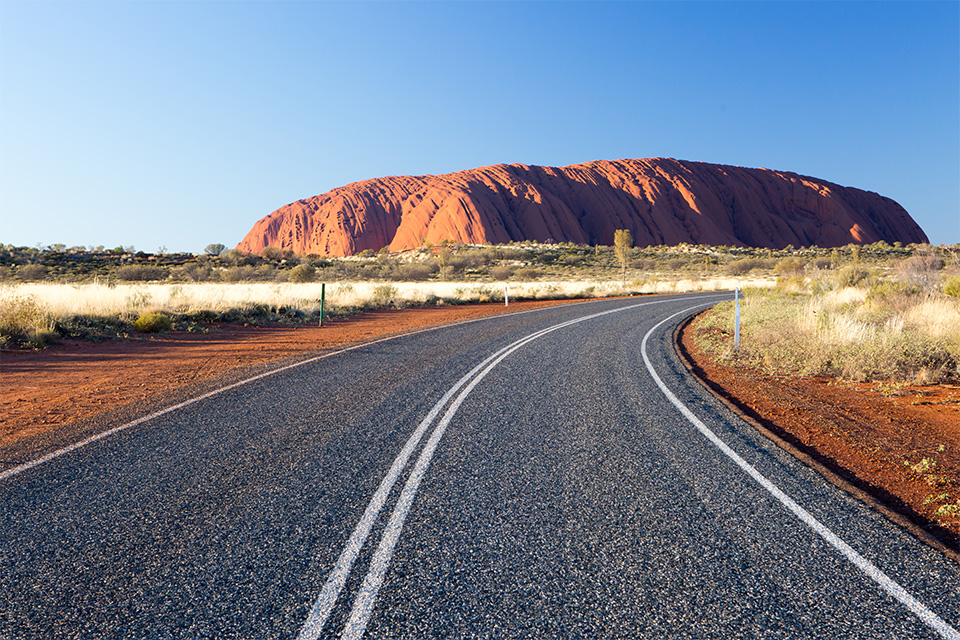 New South Wales
Old Grafton Road
The Old Grafton Road is a lovely scenic drive that connects Glen Innes with Grafton in New South Wales. The 100-kilometre dirt and gravel route makes its way along the Mann and Guy Fawkes Rivers, bordering natural reserves and national parks offering unspoilt vistas. Besides passing the Mann River Nature Reserve, Guy Fawkes National Park, and Dalmorton State Forest, you'll be able to enjoy old tunnels and relics of once-thriving tiny communities erected along the road and waterways.
Barrington Tops
The Barrington Tops scenic drive is a sensational journey through Australia's oldest national park, winding through its towering ancient forests, crystal-clear rivers, and incredible waterfalls. In this short 50-60-kilometre drive, you'll be treated to breathtaking views of the rugged mountain ranges, lush farmland, and crystal-blue lakes. This route is a camper's dream with cool swims in freshwater rivers, bushwalking, bird-watching, mountain biking, fishing, and camping.
Tasmania
Hobart to Freycinet
The Hobart to Freycinet drive is a picturesque overland tour of Tasmania's east coast. You'll pass through small communities, rocky mountains, and miles of breathtaking coastline. Visit the charming seaside villages of Orford, Swansea, and Bicheno, as well as the wonderful Freycinet National Park. The 200-kilometre journey takes around 2.5 hours and is an excellent opportunity to discover Tasmania's natural splendour. Don't forget to sample the exquisite local wine and seafood!
Multi-State Trips
Outback Way
The Outback Way is a 3,000-kilometre self-drive route across Australia's remote outback connecting Laverton, Western Australia and Winton, Queensland. Considered the "longest shortcut", the drive consists of existing highways, dirt roads, and unsealed tracks and passes through some of the country's most iconic landscapes. This trip offers an unforgettable adventure featuring unique wildlife, enchanting scenery, and a chance to explore some of Australia's most remote regions.
Alpine Way
The Alpine Way offers a panoramic route in the Australian Alps, running from Thredbo in New South Wales to the Victorian town of Bright. The route takes drivers through Australia's most stunning alpine scenery, including the Kosciuszko National Park, with beautiful views of snow-capped mountains, sparkling rivers and lush forests. The 289-kilometre route is popular with tourists and locals, offering a range of activities from skiing and snowboarding to hiking, camping and bushwalking.
Legendary Pacific Coast Drive
The Legendary Pacific Coast Drive is a fantastic voyage along the east coast of Australia from Sydney to Brisbane. This drive is worth taking your time on to enjoy the gorgeous coastal scenery, pristine beaches, and idyllic hinterland towns. From Port Stephens's dunes to Byron Bay's beaches, this enchanting 1,000-kilometre drive offers discovery, adventure and relaxation, with many activities such as surfing sand dunes, exploring sea caves and kayaking through clear blue waters.
The Big Lap
The most famous Australian road trip is the ultimate experience in overland travel. While it can be done in a few months, many take a year or more to complete this trip. No matter your timeframe, you'll be able to soak up the glory of our incredible coastlines and enjoy the bright lights of Australia's major cities. You can do the Big Lap in many ways, but for most, you'll see over 14,000 kilometres of Highway 1. The best part: if you time it right, you can enjoy an endless summer!
Kangaroo Island
Kangaroo Island is considered one of the best wilderness escapes in Australia. The Kangaroo Island drive offers a captivating journey through our country's third-largest island. Jump on the ferry from Cape Jervis, SA, and before you know it, you'll be cruising through lush, untouched bushland, past rugged cliffs, and to pristine beaches. This self-drive enables you to explore the island's unique geological features, taste fresh produce, and observe the abundant flora and fauna. Over 1,600 kilometres of sealed roads connect the major townships of the island.
Perth to Darwin
This ambitious 4,000+ kilometre road trip will take you through Australia's most spectacular landscapes, including the rugged Kimberley region, the vast red centre and the tropical Top End. You'll experience diverse landscapes, wildlife and cultural attractions. It can be done in two weeks, but we suggest taking your time to enjoy everything from the friendly towns and remote outback stations to the striking gorges and pristine waterfalls of the national parks.
Taking a road trip is the perfect way to travel and experience the best of Australia. From the rugged coastline of the Bass Coast to the crystal-clear waters of Ningaloo Reef to the red dirt of Broome, Australia has something for everyone. No matter your timeline or budget, there are endless scenic drives and hidden gems to discover that are sure to suit any traveller.
So why not plan your adventure and hit the open road? Grab your map and keys and get ready for the road trip of a lifetime. You never know what you may discover along the way.