When you're enjoying life on the road, be it a permanent lifestyle or a family holiday, there's nothing better than a home-cooked meal. One of the many delights of owning a caravan is the ability to create simple yet delicious culinary delights while exploring our beautiful country. Whether you've pushed your limits on a challenging hike, or spent the day relaxing on an isolated beach, cooking in your caravan, then sharing meal with a view, is the perfect way to celebrate the day.
Check out some of our favourite easy caravan meals. So you're able to create the most appetising meals from your home on wheels, we'll also give you some tips on how to best utilise your caravan cooking equipment. Finally, we'll share our very best caravan cooking tips. Take our advice, and you'll be creating culinary masterpieces in no time while saving space and keeping your caravan kitchen area tidy.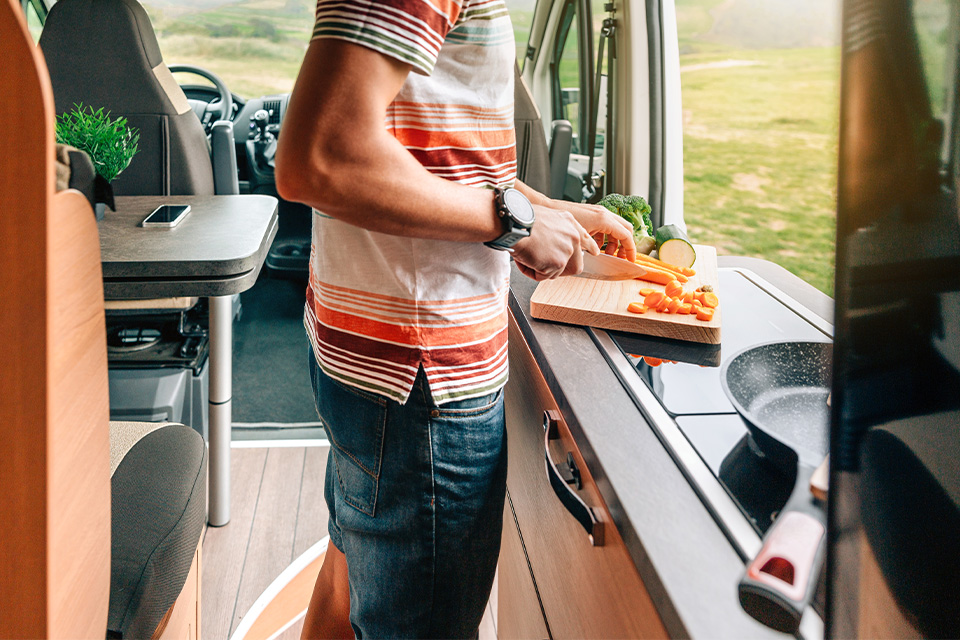 Easy Caravan Meals
Cooking in a caravan certainly differs from doing so in a traditional home or apartment. While you can certainly get creative, most likely, you'll have to make some adjustments to make mealtimes work efficiently. Check out some of our favourite easy caravan meals that are appetising yet convenient for life on the road.
Rise and Shine: Tasty Camping Breakfast Ideas
What's better than waking up in the comfort of your caravan parked by a quiet beach or serene mountain landscape? Nothing! It's one of the best parts of having a home on wheels. Something that makes these moments even better is freshly brewed coffee in hand to accompany a hot and flavourful breakfast.
Whether you're camping with mates or your extended family, we've got a couple of simple breakfast recipes sure to keep mouths smiling and bellies full. After all, breakfast is the most important meal of the day, and you'll want plenty of energy to take on whatever the day may bring. Be it a hike in the Blue Mountains, snorkelling in Exmouth or fishing in East Gippsland, these easy breakfasts will help to get your day started!
---
Apple Cinnamon Walnut Porridge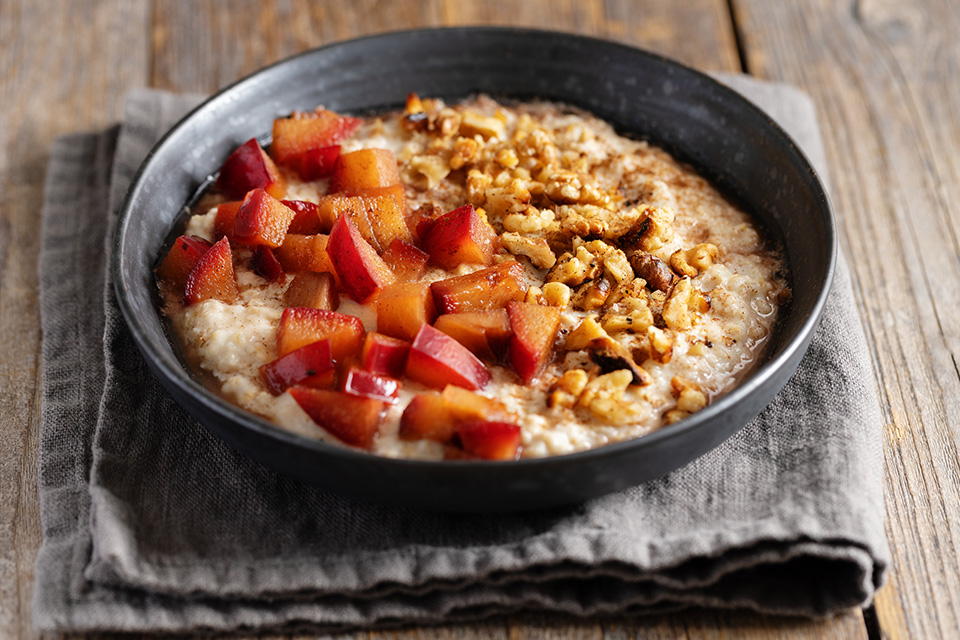 This is an excellent choice for those who prefer a sweet breakfast. Loaded with apple chunks and walnuts, this hearty porridge is a healthy yet scrumptious day starter that will please any audience.
Prep time: 5 minutes
Cook time: 10 minutes
Total time: 15 minutes
Ingredients (serves two, can easily be doubled)
1 cup old-fashioned oats
1 medium-sized apple, diced
2 cups water
½ tablespoon unsalted butter
3 tablespoons honey, plus a bit more to garnish
1 teaspoon cinnamon
½ cup chopped walnuts
¼ teaspoon ground ginger (optional)
¼ teaspoon ground nutmeg (optional)
1 pinch of salt
½ cup milk or Greek yoghurt (optional)
Instructions
Grab a medium saucepan and melt the butter over medium-high heat.
Add most of the diced apples, honey, and all spices you have, along with salt, to the pan. Simmer for 2-3 minutes until softened.
Pour in the water and raise the temperature to high before bringing it down to a low boil. Pour the oats into the mixture, then reduce heat again to medium or medium-high level, stirring occasionally for 3-5 minutes.
Walnut time! Throw those babies in and continue stirring until most of the liquid has evaporated.
Serve up the porridge by splitting the mixture between two bowls evenly, then distribute the remaining apple pieces on top. Drizzle some extra honey on top with a splash of milk or a dollop of yoghurt. Enjoy!
---
Healthy Veggie Egg Scramble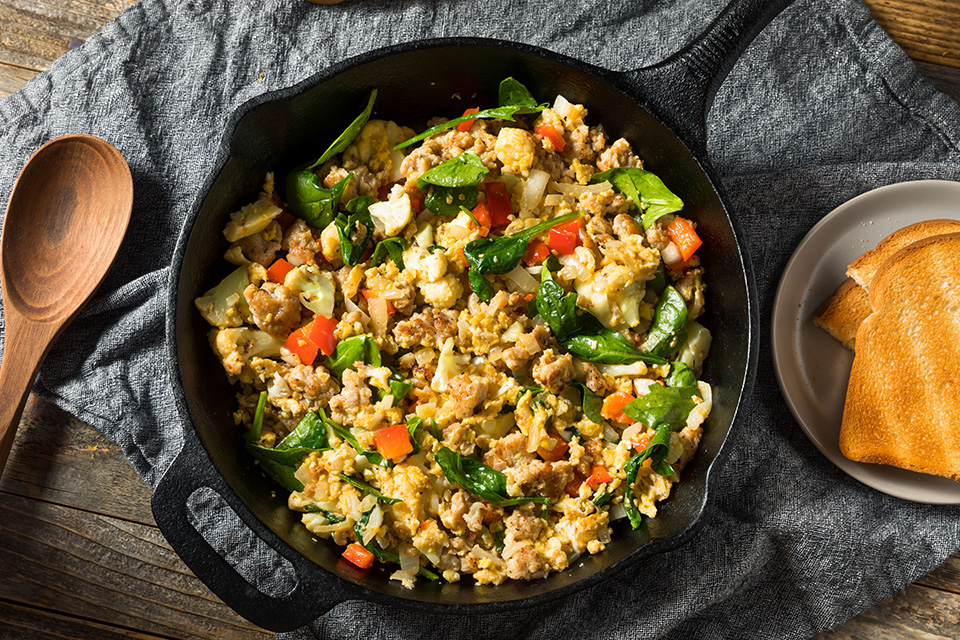 For those savoury breakfast lovers, this one is sure to get you jumping out of bed. Empty the veg crisper and grab whatever cheese you've got, as this protein-packed brekkie is the ultimate mix of anything you have on hand. You can go minimal or pack in a rainbow of veg, loading up with nutrients to get your day started the right way..
Prep time: 10 minutes
Cook time: 10 minutes
Total time: 20 minutes
Ingredients (serves three)
6 large eggs
¼ cup milk
3 cups quick-cooking vegetables (could be fresh spinach, diced mushrooms, chopped fresh broccoli, diced capsicum or tomatoes)
Salt and pepper to taste
Butter or cooking spray
¼ cup grated cheese
A handful of flat-leaf parsley
Instructions
Heat a medium-sized pan over medium heat and coat with butter or non-stick cooking spray.
Add 3 cups of whatever veg you're using; cook for about five minutes until veggies are softened. If using spinach, throw it in after and stir around for two more minutes until wilted.
Mix eggs, milk, salt and pepper in a separate bowl, and then whisk all ingredients until completely blended (the longer you whisk, the fluffier it will be).
Pour egg mixture onto the sauteed vegetables and let them cook for one minute before using your spatula to push everything towards the centre of the pan repeatedly so the liquid can get cooked through properly—keep doing this until the eggs are just about set. Add cheese and remove from the heat after about one minute, and your healthy veg scramble is done. Garnish with parsley and dig in!
---
Fuel Up For Fun: Camping Lunch Ideas
Just because you're living on the road doesn't mean you can't enjoy mouth-watering meals. There's nothing better than tucking into a good meal after a morning of fun activities. Here are a couple of our favourite quick and delicious lunch ideas to keep everyone going for the rest of the day.
---
BLAT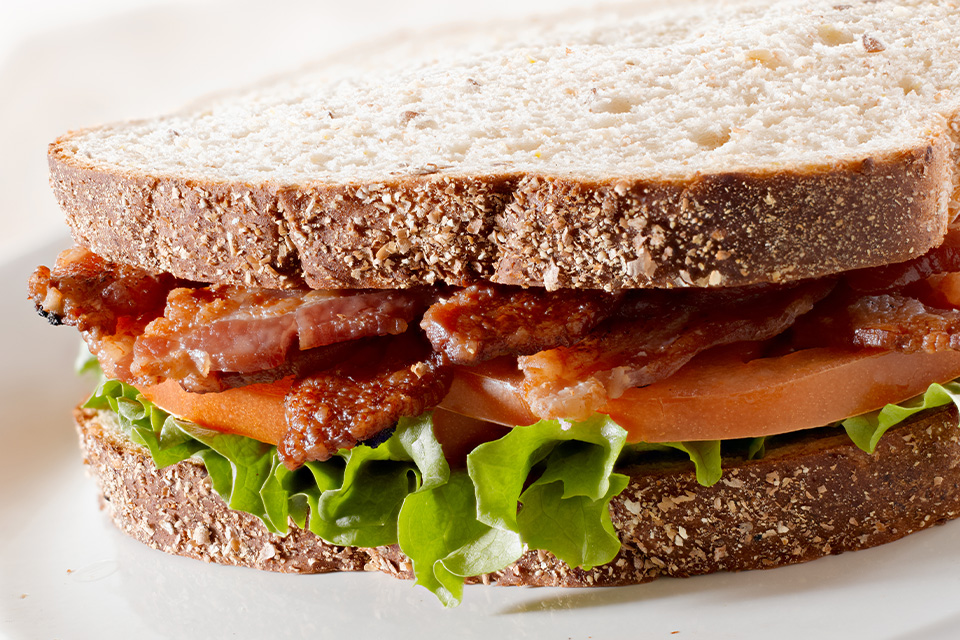 How is this classic take on the BLT not everyone's favourite lunch? It's simple, yet it marries some of the best flavours to create a quick and satisfying meal.
Prep time: 15 minutes
Cook time: 10 minutes
Total Time: 25 minutes
Ingredients (for two sandwiches)
4 tablespoons mayonnaise
4 slices bread
Cooking spray
1 large tomato cut in ¼-inch slices
4 lettuce leaves, washed and dried
8 strips of streaky bacon
1 medium avocado peeled, pitted and cut into 1/3-inch slices
Instructions
Cook bacon until crisp and lay it on a paper towel to drain.
Toast bread or use the pan fry method: use a light coat of cooking spray on a large pan. On medium heat, "toast" each slice for about one minute or until golden on both sides.
Put two pieces of toast on a flat surface. Cover each one with ¼ of the mayo.
Place lettuce leaves over the top, followed by two slices of tomato and four strips of bacon.
Add another layer of lettuce before layering avocado slices on top.
Finally, put the remaining toast slices on top so that their mayo spread side is facing downwards; gently press down to secure it in place or use a sandwich toothpick for extra stability.
---
Easy Black Bean Nachos
Who doesn't love a cheesy plate of nachos? Whether you're enjoying a lazy day by the river or exploring a new country town, it's the perfect midday meal to keep the good vibes going.
Prep time: 8 minutes
Cook time: 12 minutes
Total time: 20 minutes
Ingredients (four serves)
1 can of black beans, drained and rinsed
1 can of diced tomatoes, drained
3 to 4 jalapeno peppers, seeds removed and sliced
1 bag tortilla chips
1 cup shredded "Mexican-style" or cheddar cheese
Optional toppings: sour cream, chopped fresh coriander and additional jalapeno slices
Instructions
Set the oven to preheat at 180°. Combine the beans, tomatoes and jalapenos in a bowl.
Place the chips into a rectangular pan, so they are spread out evenly. Spread the bean mixture on top of the chips, followed by the cheese.
Bake uncovered until the cheese is melted (roughly 10-12 minutes). Serve right away with your desired toppings!
Note: Since this recipe calls for oven use, caravans must have an oven. Oven upgrades are available with any Paramount Caravan models.
---
Dig In With These Camping Dinner Ideas
Top off a gorgeous day spent exploring a national park or lazing in hot springs with these quick and easy dinner recipes.
---
Hot Chicken Caesar Salad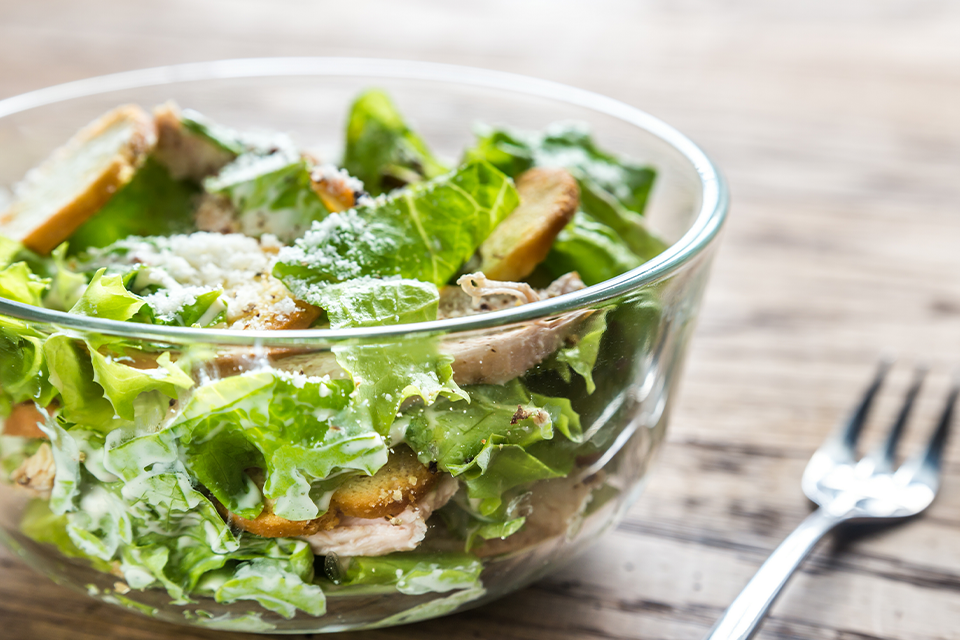 This light yet warming dinner is sure to please any audience. In under 20 minutes, you'll be able to enjoy this great meal with some of your favourite people.
Prep time: 5 minutes
Cook time: 12 minutes
Total time: 17 minutes
Ingredients (four serves)
2 boneless and skinless chicken breasts, cut in half
2 tablespoons vegetable oil
6 cups chopped kale
Salt and pepper
3 tablespoons Caesar dressing
¼ cup finely grated Parmesan cheese
1 tablespoon flat-leaf parsley to garnish (optional)
Instructions
Heat oil in a large and deep pan over medium-high heat. Season the chicken with salt and black pepper, then add it to the pan.
Cook for 3-4 minutes per side until dark golden brown on both sides, then remove from heat.
Season the kale with salt and pepper. Add an extra tablespoon of oil to the pan along with the Caesar dressing; swirl around before adding kale.
Stir everything together so that it is coated in the dressing, then cook for 2-3 minutes or until the kale has wilted.
Place cooked chicken back into the pan, followed by the Parmesan cheese and fresh parsley, before serving immediately.
---
Veggie Pesto Pasta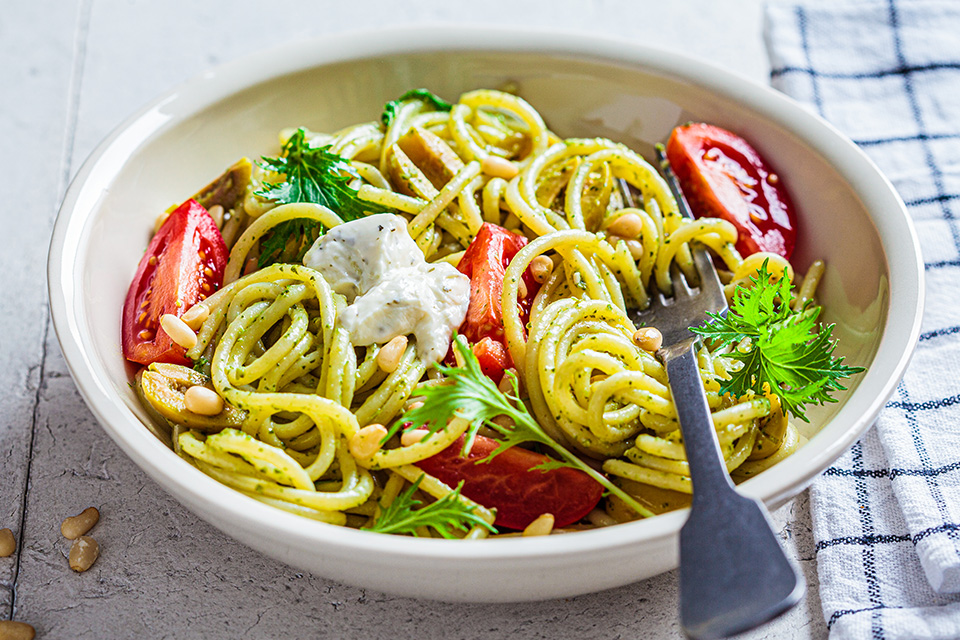 This is one of the best camp dinners. Perfect for the vegetarians or veg-curious, you'll have your family begging for seconds with this easy pasta dinner.
Prep time: 10 minutes
Cook time: 15 minutes
Total time: 25 minutes
Ingredients (four serves)
2 cups dry pasta of your choice
1 tablespoon olive oil
5 cups quick-cooking vegetables of your choice, chopped (a mixture of various vegetables you have on hand can be used, such as corn, capsicum, zucchini, tomatoes, broccoli, carrots, and peas)
3 cloves garlic, minced
1 tablespoon Italian seasoning
½ cup or 1 small jar of pesto
¼ cup fresh grated Parmesan, plus more for serving
1 small lemon, juiced
Instructions
Bring a large pot of water to a boil. Cook the pasta according to package directions, reserving ¼ cup of cooking liquid. Drain pasta and return to the pot.
In another pan, heat some oil over medium heat and add in your chosen vegetables; sauté them for 3-4 minutes until slightly softened, then reduce the heat and stir through the garlic and Italian seasoning.
Pour cooked pasta onto the cooked veg and add pesto, Parmesan cheese and lemon juice—if you want a thinner consistency, simply mix in the reserved cooking liquid before serving up. More parmesan can be sprinkled on top if desired.
---
Caravan Cooking Equipment
As everyone has a different rig, meal prep will vary depending on the set-up you've got in your caravan. For most Paramount Caravan models, your kitchen will come standard with a gas-electric mini grill, a 12v rangehood, a microwave, and a gas bayonet point for barbeques. If you have the Tribute model, your van will come with a gas-electric oven.
With that in mind, for the explorers who enjoy cooking and desire more culinary flexibility while travelling, oven upgrades and slide-out barbeques are available for all Paramount Caravan models.
Consider a Handy Slide-Out BBQ for Your Caravan
For those travelling master grillers, one particular upgrade for your caravan worth considering is a handy slide-out barbeque. These convenient additions save space and enable hassle-free access to your favourite cooking tool—the barbeque. The way the slide-out works is a custom access point is created on the exterior of your van. There will be a door, and your barbeque can slide out easily—getting you cooking in no time. So grab your steaks, bangers and chicken skewers and get ready for an epic meal no matter where you're parked.
Bonus Caravan Kitchen Accessories
Since your caravan kitchen doesn't have the same space as in a traditional house or apartment, any space savers will make your life easier. Here are a few kitchen accessories we suggest:
Collapsible Dish Rack: A dish rack with folding legs which can be stored away when not in use to free up counter space.
Space-Saving Utensil Holder: An organiser for storing utensils such as spoons, spatulas, and whisks—saving valuable drawer and cupboard space.
Travel Coffee Maker/Tea Kettle Combo Unit: This handy device is designed to save both time and energy by allowing you to simultaneously make coffee and tea using one unit.
Food Storage Containers: These are ideal for packing food items such as leftovers or snacks safely and securely during travel times
Over-sink chopping board: This is the best space saver of all, as you'll have access to your benchtop while chopping and storing ingredients over the sink.
Caravan Cooking Tips
Cooking in a caravan is certainly different from doing so in a conventional home. That means you'll have extra challenges using space and keeping things clean. Here are a few tips to make your life as a caravan cook easier:
Plan ahead: plan the meals you want to cook during the week—prepping ingredients beforehand makes cooking faster and simpler when space is tight.
Empty bins regularly (especially food waste) and replace liners to help reduce bad odours from lingering.
Wash dishes immediately after use so your kitchen area will be tidy and ready to use next time.
When preparing meals, cook a few items at once if possible—this will help you make the most of your limited space and save energy.
Utilise all available countertop areas for prep work—over-sink chopping boards are great for this.
With some simple breakfast ideas, tasty lunches and delicious dinner recipes that are sure to satisfy, you'll have no trouble creating delightful meals from your home on wheels. Upgrade options like ovens or slide-out BBQs offer flexibility, while bonus kitchen accessories provide a major life hack when it comes to space-saving solutions. Finally, following our recommended tips ensures mealtime success every time. Now get out there and start enjoying some epic feeds from the comfort of your caravan.