With the lure of the open road calling, you've decided to buy yourself a caravan. Aside from layout, style & features, one of the core choices to make is the type of material your caravan will be made from. Your caravan build will not only contribute aesthetically, but also impact functionality and performance over time. Your caravan build selection can impact things like fuel efficiency, maintenance and durability, so it's important to take the time to research & choose a material that is best suited to your future travel plans.
What Makes Up a Caravan?
A caravan is made up of two key components: the running gear and the body. The running gear makes the caravan road-legal and consists of wheels, lights, breaks, axles, suspension and chassis. This is essentially the skeleton and muscle of the caravan. The body of the caravan is the walls, floors, and roof – or the skin of the caravan.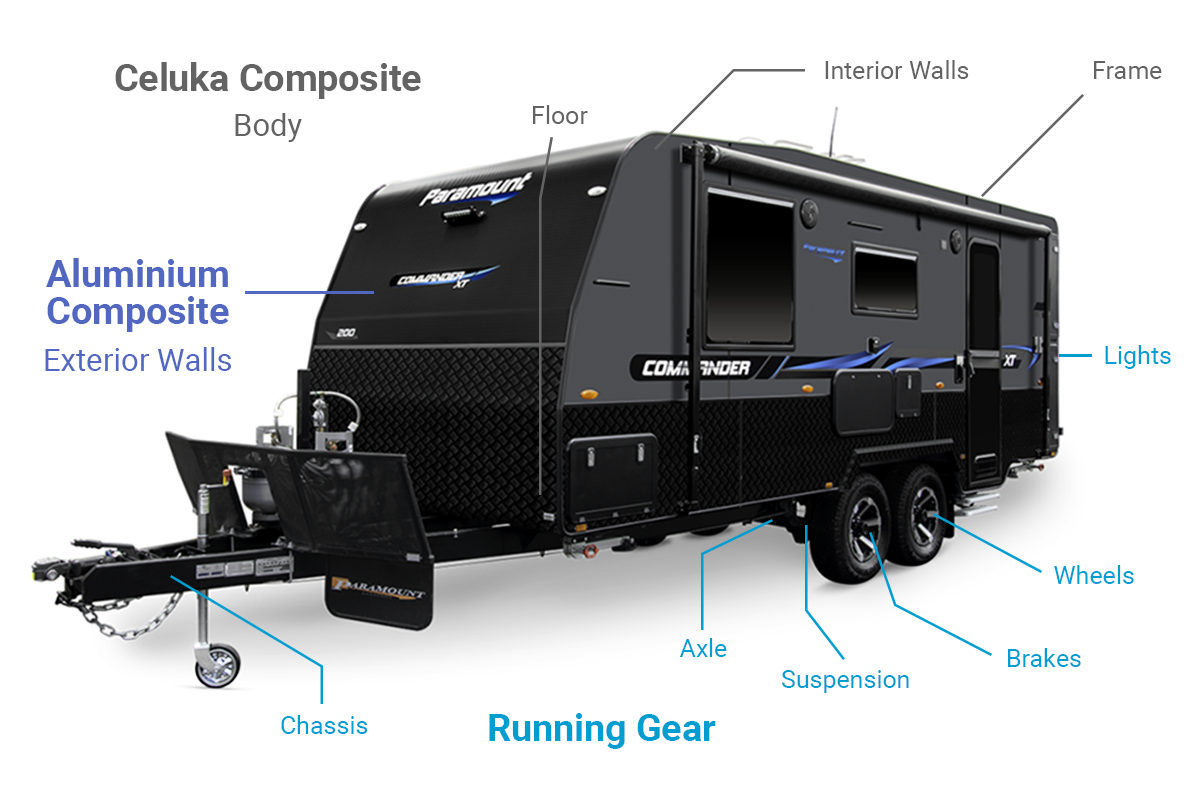 What Construction Methods Are Used to Make Caravans?
There are two primary construction methods used for caravans. The traditional method of "stick and tin" is a framed caravan construction method that has been around for decades. "Composite," on the other hand, is a mostly frameless method that has started to be used in some caravan construction.
What is the Stick and Tin Construction Method?
The stick and tin construction method is the more traditional construction method of caravan building, and still popular to this day. The process is similar to a house build and consists of a base, frame, and cladding on the outside. A wooden (stick) frame is built and secured to the caravan base and then covered with aluminium (tin) or metal cladding.
Advantages
Easier to repair. If the timber or aluminium is damaged, it is generally easier to fix. If an entire panel needs to be replaced, it is a straightforward procedure.
Heavy-duty chassis. The chassis is the foundation that supports the whole vehicle, so having a heavy-duty chassis means it will support a larger, heavier caravan. It also provides more stability for the van.
Easy to add fixtures/fittings to the van. With a timber-framed van, you have the flexibility of adding fittings to the external part of the van. By finding the frame or stud, you can attach accessories to the outside of the van.
The owner can modify or fix it. Traditional caravans like stick and tin are far easier for owners to fix or modify inside and outside the van.
Disadvantages
Heavier chassis. While a heavier chassis has its advantages, it also adds weight, a consideration if your towing capacity is limited.
Prone to leaks. After years of movement, gaps can form between the sheeting of your caravan, which could make it prone to leak water.
Little rot resistance. A timber frame has little resistance to rot, so if the caravan leaks, it can cause damage.
A New Approach to Stick and Tin Caravan Construction
Pioneering modern caravan construction, here at Paramount, we have combined the traditional stick and tin construction method with the strength and durability of new composite building materials. Rather than using a Meranti timber frame, the "stick" component is replaced with a Celuka Composite frame, this material is also used for the interior ply walls. For the exterior, Aluminium Composite (or Ali-Comp) is used for cladding.
Advantages:
Weight consistency. Removing the timber and replacing it with Celuka Composite gives the caravan weight consistency. Timber weight can vary up to 40kg, whereas Celuka Composite has a consistent weight.
Rot-resistant. Unlike timber frames, Celuka Composite is rot-resistant.
Less prone to leaks. Using Aluminium Composite panels with fewer joins results in fewer leaks.
More customisation options. The combination of the stick and tin method of building and the use of Celuka Composite materials results in customisation flexibility. The van can be designed and customised to suit the client's needs.
Better wiring. Unlike fully composite caravans where the wiring is more visible, the aluminium cladding caravan can be customised so the wires are concealed easily and run through the internal walls.
Easy to repair. You can cut through timber (and Celuka Composite) and repair an isolated caravan section. You can't do that with aluminium, as it's a one-piece panel with no flex. One accident with an aluminium frame and you'll get a ripple effect.
Upgrade of the stick and tin method. By combining stick and tin construction with rot-proof, weight-consistent Celuka Composite panels and aluminium, Paramount Caravans has created a superior caravan product with greater longevity for caravanners.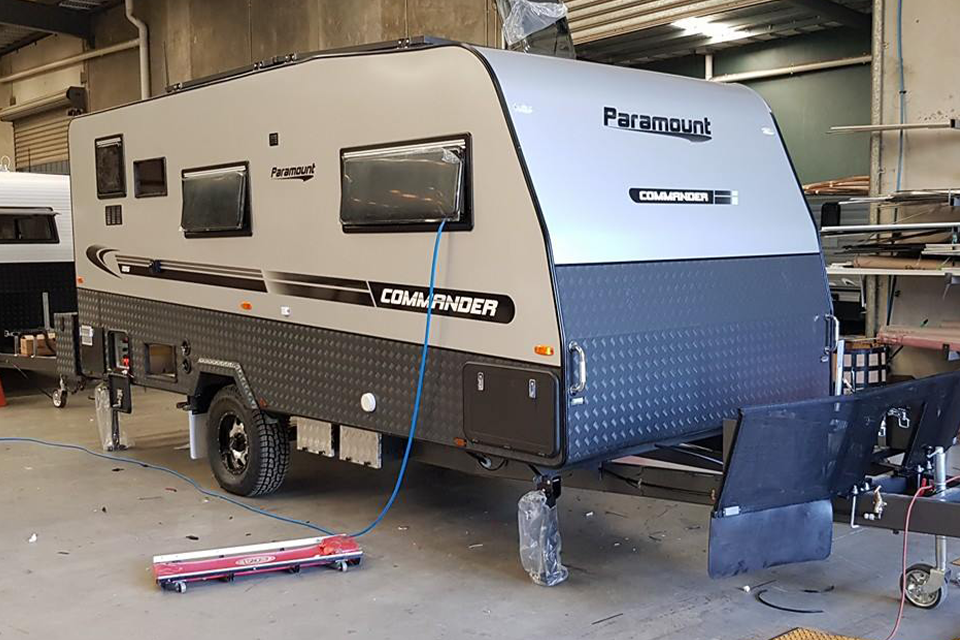 What is the Composite Construction Method?
The composite construction method is a more recently adopted method of caravan construction. The method involves creating large body panels that can be interconnected without needing a central frame. Each of these panels spans the entire length of the caravan and is affixed to a base, which is then interconnected to form the caravan shell. This sort of "one-piece" construction results in decreased weight and enhanced strength, however at this sheer scale, it can only really be done with composite materials – which is where it gets its namesake. Additionally, the panels are constructed with multiple layers bonded together to create a more robust building material overall, further adding to its benefit.
Advantages:
Stronger and lighter. Because composite panels are lightweight, the caravan will be noticeably lighter. A lighter caravan means more vehicles can tow them.
Good protection against the elements. The one-piece construction method means fewer joins, so less chance of water seeping through. The composite layer is strong and durable and designed to protect against elements like thunderstorms and hail.
Suppress outside noise. Being one piece, solid panels means less noise is heard inside the caravan. Although not totally soundproof, outside noise is suppressed, so it is much quieter in the van.
Insurance discounts. Some insurance providers offer discounts for having a composite caravan.
Disadvantages:
Cost. Composite construction caravans using new technology can sometimes be more expensive to purchase. As they gain popularity, however, some manufacturers are producing more budget-friendly options.
Minimal customisation. Composite construction panels are pre-fabricated, meaning less scope for customisation.
Delamination. As the weather causes expansion of the panels, they have no pliability and are prone to delamination.
Wiring visibility. As the wiring must be run internally, there is the issue of trying to conceal wires.
Cannot add external fixtures. As a composite caravan consists of prefabricated single panels, there is no flexibility to add external features like bike racks.
What Building Materials Are Used in Caravan Construction?
The most commonly used caravan-building materials are timber, aluminium & fibreglass. An exciting new caravan material to hit the caravan market is rot-free & flame retardant Celuka Composite, a great option for caravanners planning to spend time in the harsh Australian climate.
Materials Used for the 'Stick and Tin' Method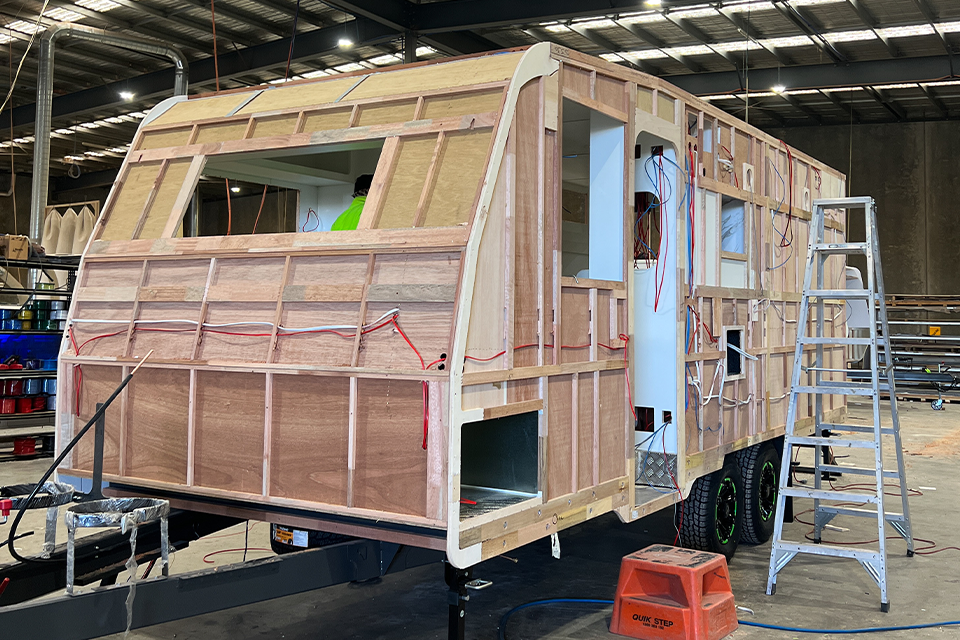 Meranti Timber
Caravan builders have been using Meranti timber for caravan frames for years. Also known as Pacific Maple, it is undoubtedly the best timber for caravans.
Pros: Light, strong, flexible, affordable.
Cons: prone to rotting (long term), inconsistent weight
Aluminium Cladding
Aluminium cladding has been around since the 1960s and is still used today. Simple ribbed cladding is the most popular style of exterior aluminium cladding and is usually about 0.7mm thick. The aluminium is usually clad over a timber frame.
Pros: Lightweight, economical, doesn't corrode or rust, not susceptible to rot.
Cons: Flimsy, easily damaged, susceptible to water leaks.
Aluminium Framing
Since the 1970's aluminium has been an option for caravan frames. High-quality aluminium is welded together to create the frame.
Pros: Lightweight, durable, sturdy, doesn't rot.
Cons: Costly and time-consuming to build, can experience metal fatigue (the aluminium can become weak due to repeated stress or loading).
Materials Used for the 'New' Method

Celuka Composite
A new and increasingly popular choice in modern caravan construction, Celuka Composite is a rigid PVC sheet with a smooth glossy finish on both sides. Available in different sizes and thicknesses, it can also be made in various densities. This material is now considered one of the best caravan-building materials on the market.
Pros: Rot-free, flame retardant, fully recyclable, environmentally friendly, lightweight, better insulation, can be fully customised.
Cons: Complicated to produce, so only accessible by specific manufacturers.
Aluminium Composite
Made by Probond, this aluminium composite uses advanced technology in the core which is constructed from a complete aluminium structure rather than from a combustible material, meaning that it contains little polyethylene. The aluminium composite is a flat panel made up of an aluminium skin, pure LDPE (low-density polyethylene) core material, paint finish and clear protective film. Not only does it look like a traditional aluminium composite panel, but it is also similar to fabricate and install.
Pros: Streamlined appearance, better insulation, sound dampening, customisable, water resistant, easy to repair.
Cons: Can dent.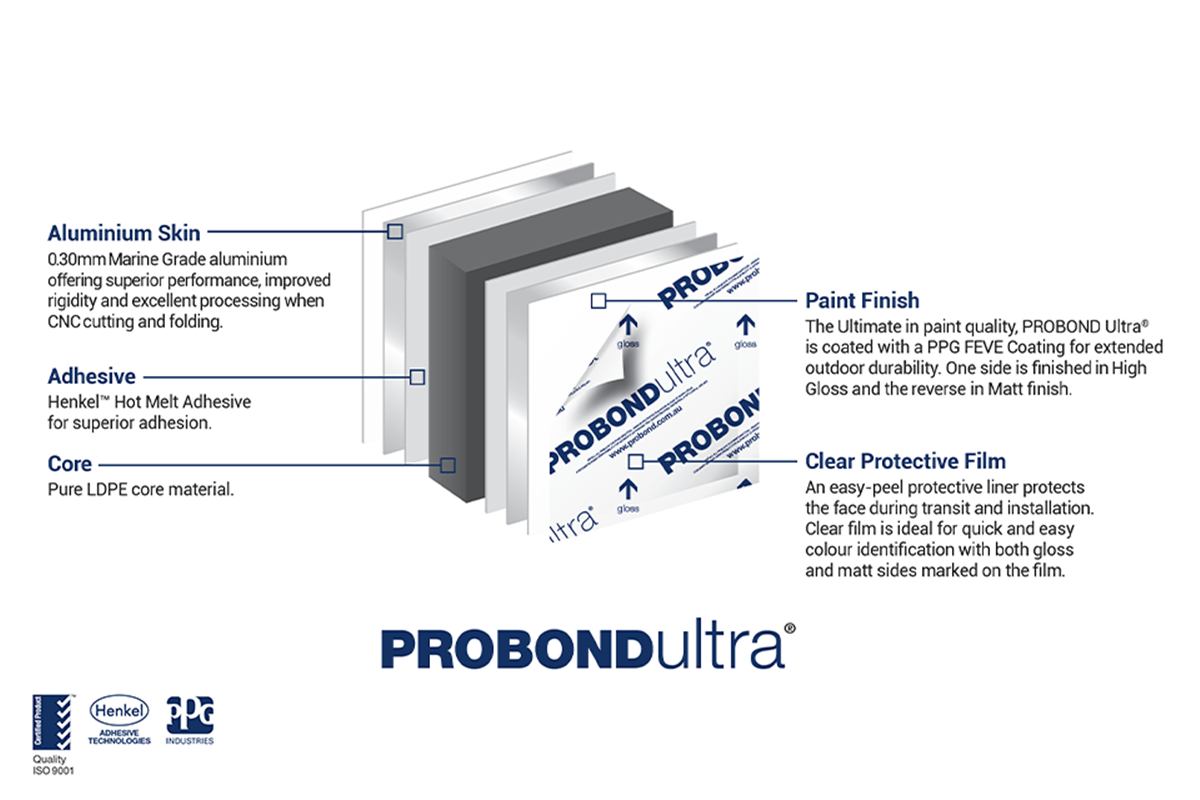 Materials Used for the 'Composite' Method
Fibreglass
Fibreglass is an alternative to aluminium when building panels for a caravan. It uses glass-reinforced plastic for the body of the caravan and has become a popular alternative for caravan manufacturers.
Pros: Light, strong, water resistant, better insulation, low maintenance.
Cons: Harder and more expensive to repair, ages quickly.
Different Benefits of Caravan Building Materials
With a comprehensive understanding of caravan construction methods and materials, it is also wise to take into account towing capacity & climate in your caravan material selection process.
Towing capacity
It's important to consider what vehicle you'll use to tow your caravan when selecting your caravan material. When estimating the towing capacity, be mindful that it includes not only the weight of the caravan but everything in it, from crockery to water tanks. If you have a small to medium vehicle, you may be suited to a lightweight caravan which will require a reduced towing capacity. Suitable caravan types could be the new Celuka PVC, timber, or fibreglass composite panels. The Paramount Micro Caravan is a good example of a lightweight timber option. Alternatively, a four-wheel drive with plenty of power gives you more range of towing capacity, so you may opt for a more robust build to suit outback driving.
Climate and weather
For protection against the elements, Celuka or fibreglass composite caravans are superior to aluminium. In rain, there is less likelihood of water seeping through, and in hailstorms, the tough outer layer is unlikely to be damaged. Celuka Composite and fibreglass composite panels also provide better insulation, keeping the van cool in summer and warmer in winter.
Shopping for a caravan is the first step towards an exciting adventure and experiencing the freedom of the open road. Choosing a caravan material that best aligns with your future travel plans will play a key role in ensuring a pleasurable on the road experience & allow you to gain the most longevity of your van. In this article, we have explained the different types of caravan materials, construction methods, and factors to consider when choosing your caravan building materials to ensure you are well-equipped to choose your next caravan. For further information on the best caravan build for you, reach out to your local caravan dealership today.