Caravanning is a great way to make lifelong family memories exploring Australia, allowing you to reach exciting places and enjoy quality time with your loved ones. So, how do you find the perfect caravan before you set off on your family adventures? This article will guide you on what to look for when planning to purchase & potentially customise a caravan to suit your family.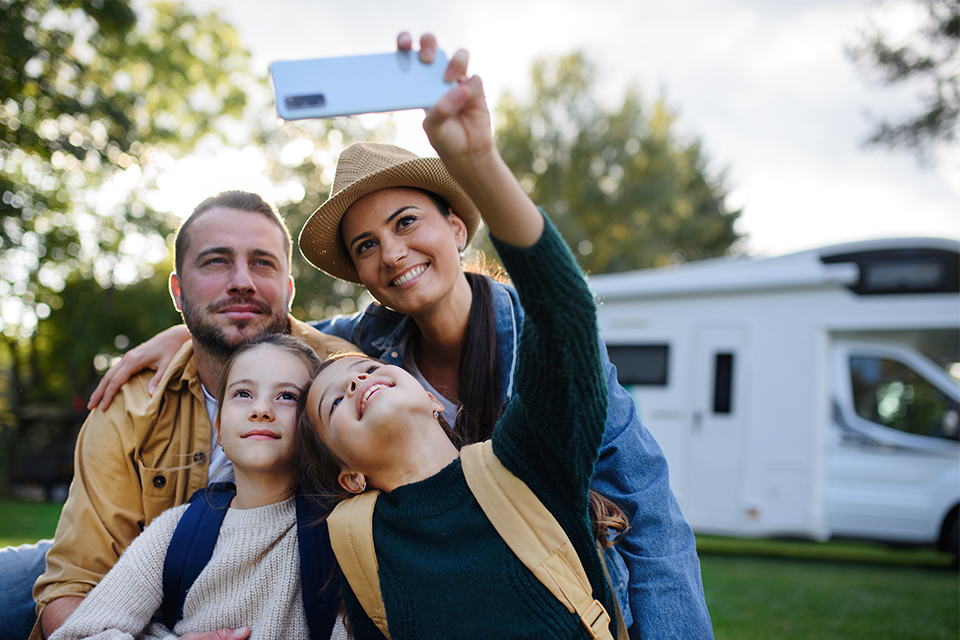 Consider the below questions to help establish your initial needs.
How Much Weight Can Your Car Tow?
The most important thing you'll need to determine is how much weight you can tow. This is done by finding your towing capacity. Not knowing your towing capacity can result in safety, legal and insurance complications. To determine your maximum towing capacity, read our Caravan Weight Breakdown here.
How Much Caravan Storage Do You Need?
More people equals more cargo. Depending on how far you want to travel and your family's needs, ample storage is a must. When travelling long distances, it is essential to have enough storage space. Plan ahead and map out how much storage your caravan will need.
The internal storage will need to be big enough for all your day-to-day needs, such as cutlery, crockery, clothing, towels, bedding, etc. External storage, such as the front and tunnel boot, will need to be large enough for less frequently used items such as fishing rods, sporting equipment, and laundry airers.
How Many Beds Do You Need?
Putting a bit of thought into your bedding situation can save you a lot of time and stress. You need to decide how many beds you need and where they should be in the caravan. This is essential for family travel.
Consider how big your family is and how old your kids are. Having your children close by while they're young makes sense. You may also consider privacy options for older kids or teens. Additions such as zip-on canvas rooms (AKA annex) or privacy doors/curtains can be helpful space dividers and privacy for each family member.
Choosing the right bed size for your caravan is also important if you plan to use it for a long time. Paramount Caravans offers numerous bed sizes and configurations.
If you're interested in entertaining guests, you might want to consider TIC cushions, which are large cushions designed to fit on an L-shape or club lounge table and act as makeshift beds. Also known as static cushions for their stable design, they are fantastic for putting up a guest for the night. When not in use, you can store TIC cushions discretely and conveniently under a bed.
What Caravan Safety Features Should You Consider?
Some key caravan safety features include electronic stability control (ESC), electric brake controllers, and jockey wheels.
ESC, also known as Dynamic Stability Control, provides extra protection against caravan sway when towing. This is done through lateral acceleration sensors, which proactively detect swaying and prevent it via fast brake response. All family caravans at Paramount Caravans automatically include DSC.
Electric brake controllers are legally required when towing over 700kg. These controllers allow you to control the brakes for your caravan from the tow vehicle.
All caravans come with jockey wheels, but you can choose to replace them with more maneuverable, safe, or simpler alternatives.
When buying a caravan, check that it has a Certificate of Accreditation. This will ensure that the caravan meets safety standards. This certificate is provided by the RV Manufacturing Accreditation Program. It ensures that the caravan you purchase adheres to Australian Department Design Rules, Regulations and Standards.
To determine the quality of a caravan manufacturer, you can also research their reputation and customer satisfaction history.
What Convenient Features Are You Looking For?
With the bare necessities out of the way, you can think about convenience. Convenience features can include toilets, ensuites, large fridges, air conditioning and washing machines. While these may seem like essentials, caravan parks typically offer numerous amenities. Additionally, some travellers opt for smaller fridges based on their family's dietary needs and habits.
You can save money and space if you don't want to lug around a big fridge or washing machine, but having these can make your trip much more enjoyable. Similarly, having a shower and toilet in your caravan can provide privacy and convenience, reducing cold trips outside to shared facilities.
Families come in all shapes and sizes, so to help you start your search, we've put together a list of three of our family caravans to consider. Whether you're adventurous or laid back or simply have a large family, we have an option for you.
Family Caravan With Bunks and Ensuite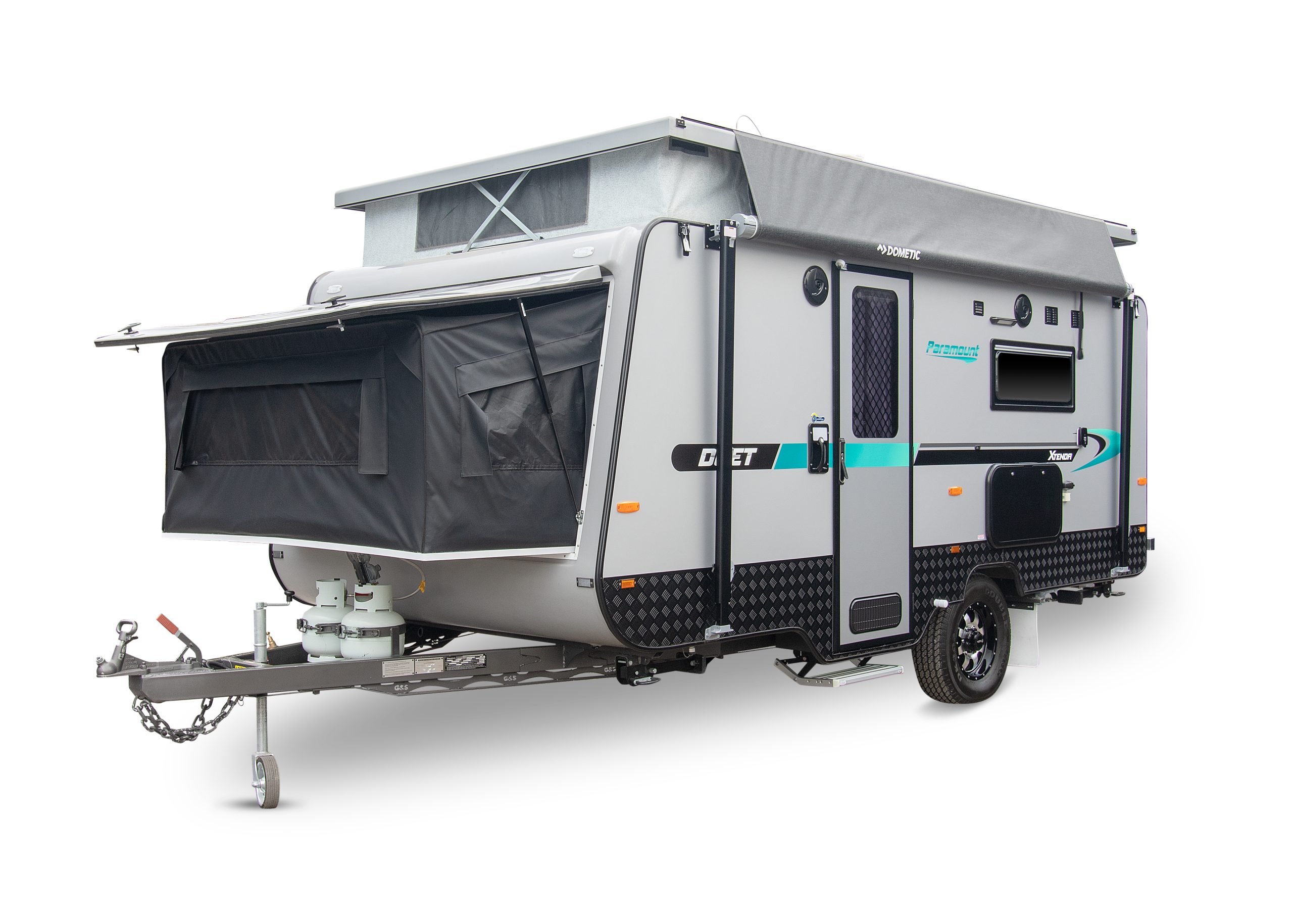 Family features at a glance:
Lightweight build for easy towing
Ensuite for privacy and comfort
External picnic table for outdoor lunches
Individual sleeping spaces and an ensuite can make your caravan feel like a home away from home. An ensuite is a perfect solution if you want more privacy, convenience, and comfort while camping. Bunks are also a great way to save space and can be great fun for the little ones. The Paramount XTENDA is an excellent choice for families who want a lightweight option with bunks and an ensuite.
Available in a size range of 15' to 23', this caravan is perfect for young families. It has been leading the expanding caravan market since 2006 and offers 2 to 3 bunk setups. These caravans can be fitted with a toilet-shower combination ensuite and boast a comfortably sized kitchen and dining area.
Other fantastic features for family travel include an external picnic table for outdoor family time. This caravan also offers various upgrades to the oven and pantry facilities for the aspiring chef.
Caravan for Family of 5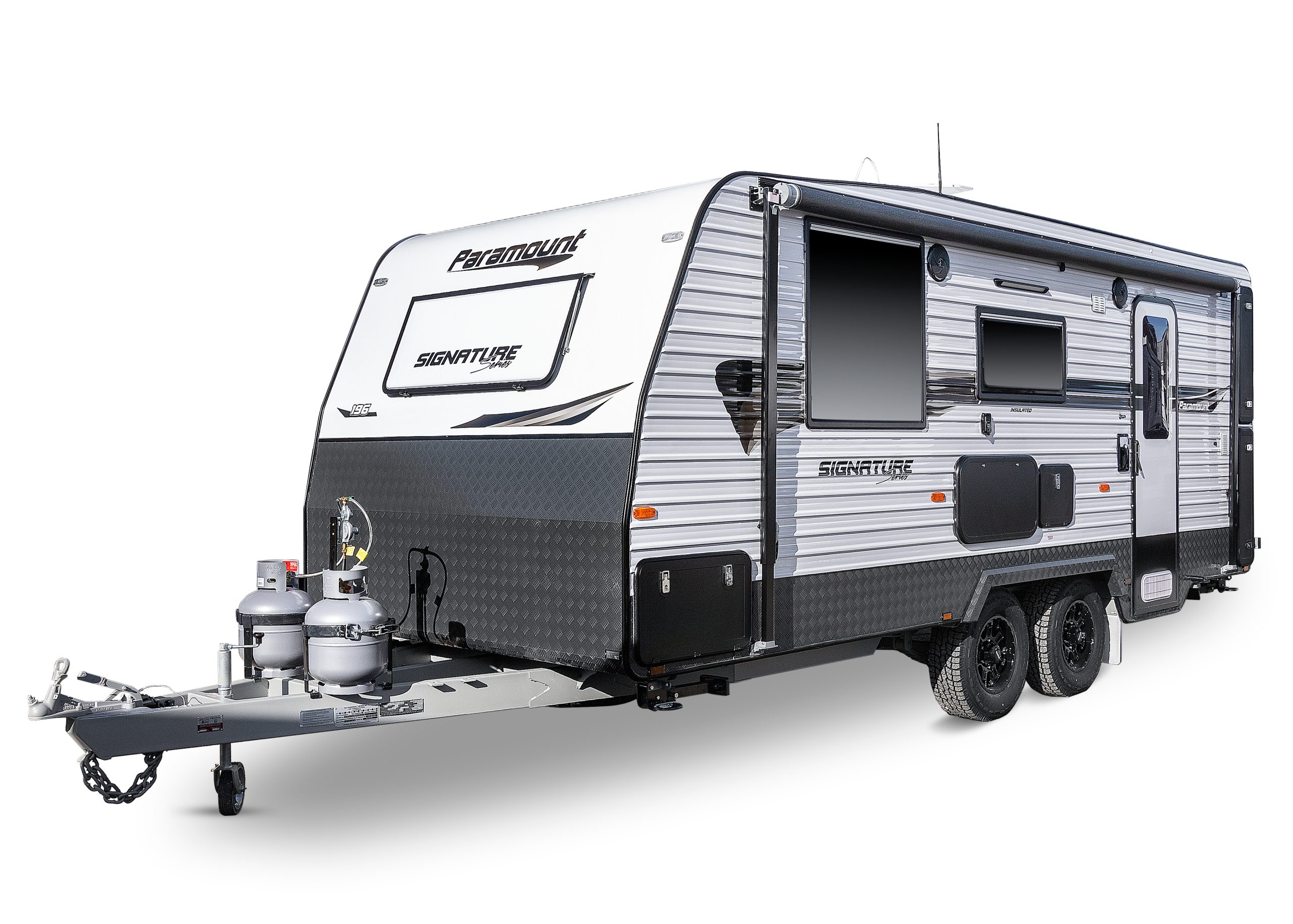 Family features at a glance:
Sleeps up to 6 adults, perfect for large families
Large storable queen bed for easy access
Outback functionality for adventurous families
Travelling with a larger family can be difficult, but spending time in affordable, comfortable and spacious accommodation is far easier with the right caravan setup. While many caravans can be adjusted to suit larger families, if you're looking for a great base model, the Paramount Signature Series may be the caravan for you.
Sleeping up to 6 adults, the Signature Series ranges from 18' to 24' and includes 2 to 4 bunk beds and a full ensuite. The Signature Series includes many fantastic features for large families and general comfort, including a large storable queen bed accessible from both sides to avoid waking your partner in the middle of the night. This caravan is also highly versatile with single bed options, outback functionality and lounge options.
Toy Hauler Family Caravan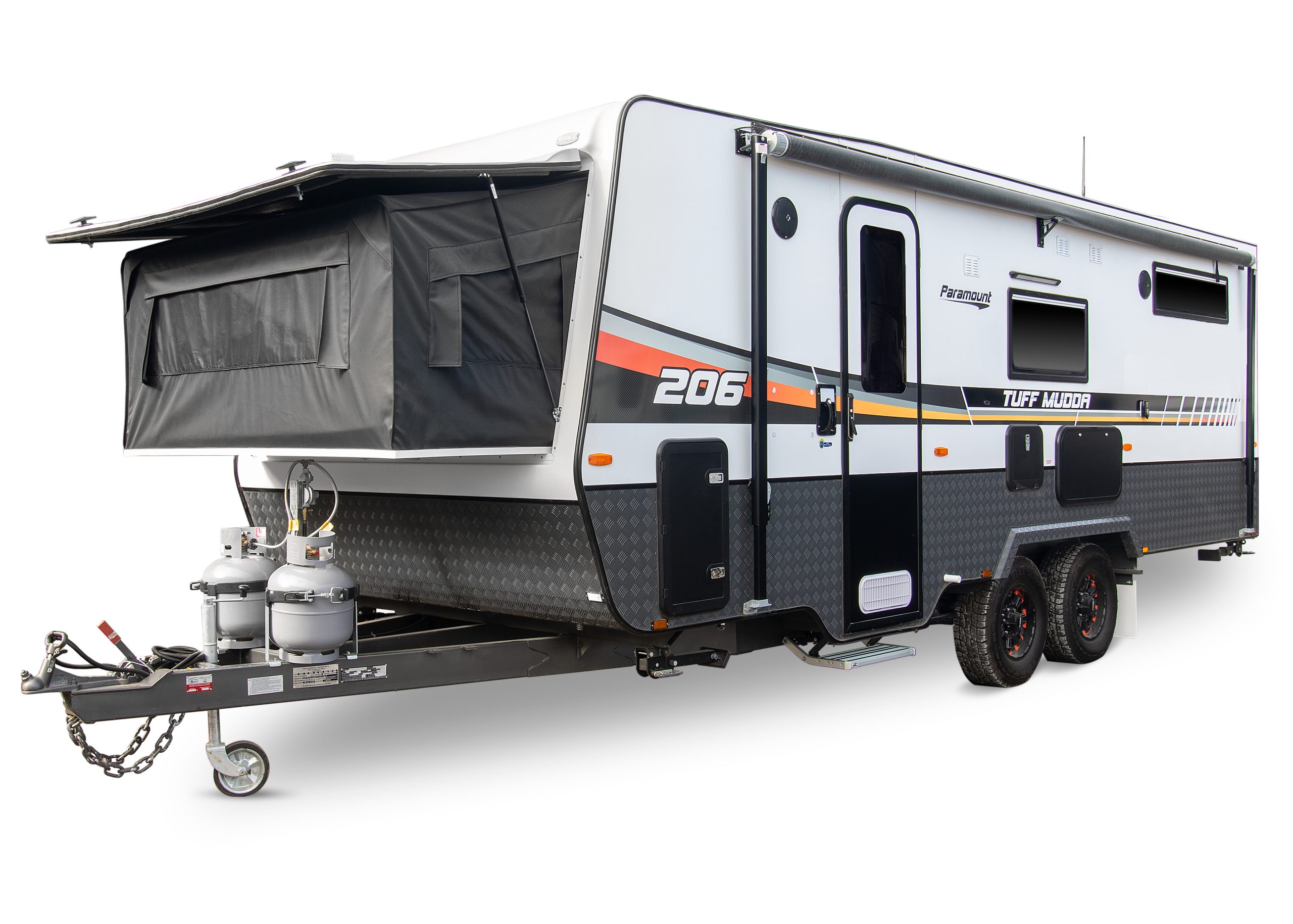 Family features at a glance:
Storage space for all your toys
Optional entertainment options including Foxtel and internal speakers
Full customisable interiors and layouts for that homelike touch
The Tuff Mudda can accommodate 2 to 6 adults and is available in sizes 18'6 to 27'. It has options for 2 to 4 bunks. The Tuff Mudda is perfect for families who like to go on off-road adventures. It has plenty of storage space in the back for all sorts of toys, like quad bikes, motorbikes, and mountain bikes. This storage is easily accessible with the steel frame rear tailgate and accompanying electric winch.
The Tuff Mudda includes features you can upgrade for entertainment, such as satellite/Foxtel systems, WiFi, and internal speakers. These features make the Tuff Mudda ideal not just for transporting toys and outdoor gear but also for enjoying some downtime.
Caravan Layouts
The above is just a small taste of what you can expect from a family caravan. You can also customise and adjust your caravan layout to better suit your family's needs. Common layouts include:
Traditional
The sleeping area is separated from the living room in this layout, with all sleeping areas located in one place.
Open
This layout does away with distinct compartments, instead opting for a large open area blending living and sleeping areas into one.
Modern
Modern layouts typically have the parents at one end and the children at the other, allowing for more privacy.
Custom caravan layouts are determined by what options your local dealer offers. At Paramount Caravans, we offer extensive customisation options to tailor your caravan according to your family's requirements. Whether you're looking for an off-grid setup, a luxurious interior, a multipurpose family space or anything in between, we can help.
Travelling with your family by caravan takes the fuss out of finding suitable and comfortable accommodation. A caravan that is well-suited to your family's needs and comfort can feel like a home away from home. If you'd like some help comparing your options, visit one of our dealerships to have a chat about your caravanning vision.